Social media encompasses several different platforms that we all know and love, but for your strategy to succeed, you can't treat them all the same. 

From Facebook to Instagram, Twitter to YouTube, and LinkedIn to now TikTok, each channel has their own considerations when it comes to content, voice, and audience expectations. 

To explain the need-to-knows for these social media channels a little further, I thought I'd get a little help from my Friends.

Rachel, Phoebe, Monica, Chandler, Ross, and Joey. 
Friends Characters as Social Media Platforms
One of the reasons Friends is such a success is the consistency in personality of each character. While I was mourning the show's departure from Netflix, I couldn't help but notice how each of their characters' traits aligns with the characteristics of each social media platform.
Rachel is Instagram
Even though she didn't like reading this on Ross' infamous pros and cons list, it's pretty safe to say that Rachel is into her looks. After all, she ends up working in fashion!
Remember when she is embarrassed running with Phoebe in Central Park because of Phoebe's awkward run?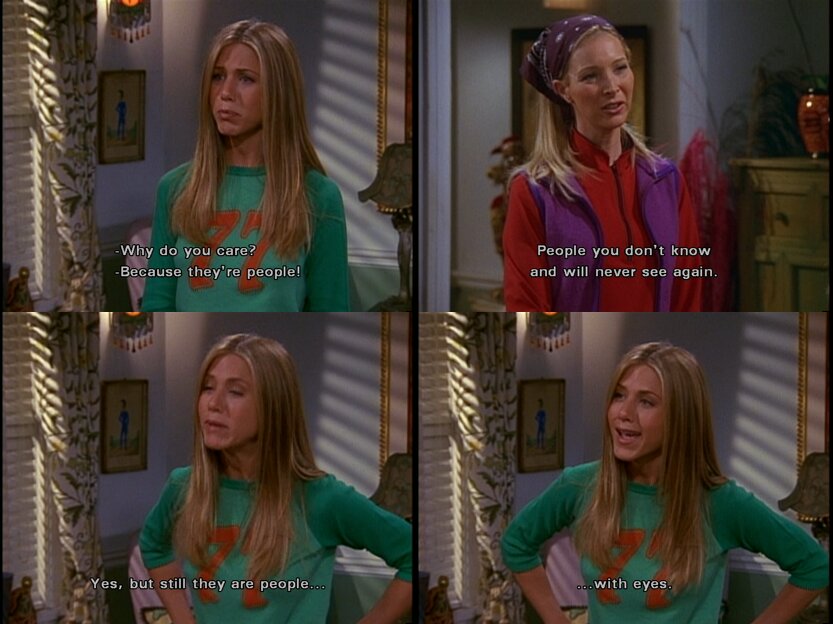 On Instagram, you have to think about appearances just like Rachel tends to do.
Since the platform is visual, brands need to strive for eye-catching content that produces "thumb-stopping power." 

The good news is, you don't always need a super professional photo with perfect lighting and color balance to grab attention on Instagram. The content just needs to be interesting. Bold typographical content, as well as unpolished memes and infographics could also inspire a double tap or boost engagement.

And now with IGTV picking up momentum in 2020, it's more important than ever to provide content that compels people to watch and learn more.
Phoebe is Facebook
Ah, Phoebe. She is by far the most eccentric, free-spirited character on Friends. She is incredibly kind-hearted, but sometimes she is just downright weird and we love her for it.
I think it's safe to say that Facebook is a mixed bag, and in a way, so is Phoebe. She has her quirks and a lot of diverse interests and qualities. She is a vegetarian, animal lover, musician, and so much more.
For your content to succeed on Facebook, it needs to be targeted with precision based on what you know about your ideal customer. Although Facebook's users span all ages, backgrounds, and interests, it provides a wealth of demographic and psychographic insights to help you put your posts or advertisements in front of the right people.
Monica is Pinterest
Can you imagine what a gold mine Monica Geller's Pinterest account would be?! Not only is she a professional chef (hello, amazing recipes!) but she is also a clean freak, organization wizard, party host, interior decorator, and home economist. I would totally follow her fashion boards too!
The thing about Monica is that she loves to serve — she is always the hostess.
When it comes to Pinterest, your content should serve your audience's needs. Remember that Pinterest is a search engine. People are looking for inspiration and guidance to make their lives easier. From outfit ideas, to wedding planning checklists, dessert recipes, or job hunting tips, everyone on Pinterest has a need that you can fulfill. 

Invest in creating content that is the answer to what your target market is searching for and host it on your website. But don't forget about presentation.
If your Pinterest image does not compel people to click to read more, it won't matter how helpful your article may be. Design graphics that stand out and clearly communicate your content.
Chandler is Twitter
I love in season nine when Chandler finally makes his way into advertising and lands a job as a copywriter. Between his sarcasm, epic one-liners, and sharp wit, Chandler would absolutely crush it on Twitter!
In my opinion, Twitter is one of the best places where you can show your brand's personality. It's imperative for brands to find their voice and use it often on Twitter. Stay in-the-know, engage in real-time trending topics, start a conversation, and when you can, use humor.
Joey is YouTube
For obvious reasons, Joey represents YouTube. He's an actor who loves to be on camera! And it turns out, he'd probably be a pretty great vlogger.
But you don't have to have striking good looks like Joey to succeed on YouTube — you just have to provide value. You can do this by entertaining your audience, motivating them to try something, or simply teaching them a new skill.
For example, rather than posting a sizzling commercial about your products, why not do an unboxing, product demonstration, or tutorial?
With every video you create, make sure there is a takeaway for your audience.
Ross is LinkedIn
Dr. Ross Geller is a true academic who is always making strides in his career. He perfectly personifies LinkedIn!
LinkedIn is the most professional of all the social networking platforms, with every profile illustrating a users' education and career history, as well as accolades and accomplishments. It is an ideal platform to connect with those in your industry and illustrate your credibility. It also includes in-platform blogging functionality to help people demonstrate thought leadership.
But one of LinkedIn's biggest strengths is the opportunity for recruitment and collaboration.
Use LinkedIn to connect with people you admire, but always be sincere. And when I say connect, I don't mean to just send them a LinkedIn invitation. Connect by engaging with their content, sending tailored and sincere messages, and posing questions of your own to people in your industry.
Friends and Your Content Strategy
So the next time you're stuck adapting your content ideas for each platform, just ask yourself, what would Rachel, Phoebe, Monica, Chandler, Joey, or Ross do?
RELATED: OMG! Here's why Janice from Friends is a personal branding muse.

READ MORE: Phoebe Buffay proves that your email list is your biggest marketing asset.